Acquia Certified Site Builder - Drupal 8
Earlier this week I took and passed the Acquia Certified Site Builder exam for Drupal 8. Here are some tips and a few resources that helped me prepare for this 50 question, 75 minute exam.
These free Drupal courses for the community were a big help. It has been several years since I have done any site building with Drupal and it was like going back to my home town, barely recognizable. The exam questions are mostly scenario based and the Building a Basic Site Using Drupal 8 course covers some of these. The videos also walk through the various administration menus that you will need to be familiar with.
For the Acquia Academy Site Builder course, I used the Docker image created by wadmiraal to run Drupal locally. It was also handy for experimentation since the Drupal site could easily be reset to that of a fresh install. If you are already familiar with Docker, then this won't add much to your plate on top of preparing for the Site Builder exam. Otherwise, I recommend sticking with the Drupal environment solutions covered in the courses. Another bonus is that this image comes with Devel and Drush already setup. Drupal Console is also ready for installation when advancing to the developer track.
Keys
Here are few tips and scenarios to consider when studying.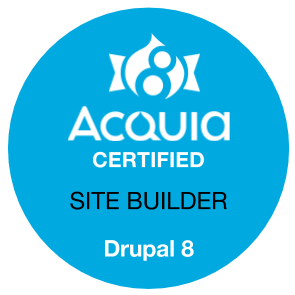 Other Resources